News and Events
2018
Physics Professor Receives Grant to Improve Particle Collider
Physics Professor Themis Mastoridis and his student research team will play a key role in the coming upgrade of the world's largest particle collider, the Large Hadron Collider (LHC). 
Read more about Mastoridis and his research team
New Study Aims to Give Babies Healthiest Possible Start
Cal Poly professor Alison Ventura and her students are working to decode the unspoken mysteries between a mother and her baby.
Read more on the effects maternal interactions have on babies
Faculty and Staff are Distinguished and Outstanding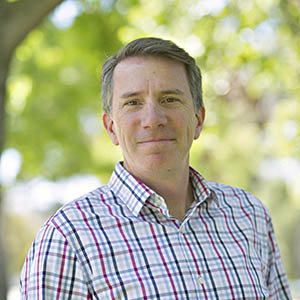 Faculty and staff in the College of Science and Mathematics are acknowledged for the great work in their respective fields and for the impact they have had on their student's lives.
Read more about the achievements of Cal Poly faculty and staff
Cal Poly Receives Almost $1M to Support STEM Educators
The 2017-18 awards fund campus projects that will lead to a more robust and diverse talent pipeline of K-12 science and math teachers — with a focus on recruiting candidates from underrepresented communities.
Read more about funding supporting educational opportunities
Preparing Tomorrow's Teachers to Inspire the Next Generation Today
Physics and liberal studies Professor David Mitchell led a team of aspiring educators on a journey to develop curriculum designed to inspire young students to be curious about our galaxy. 
Read more about developing classroom activities
From Eelgrass to Mudflat: New Cal Poly Research Dives into Morro Bay Mystery
Morro Bay's eelgrass beds nearly disappeared from 2007 to 2017. This new Cal Poly study helps explain why levels remain low.
Read more about the research into Morro Bay's eelgrass beds
Cal Poly Biology Student to Receive CSU Trustees' Award and $6,000 Scholarship
A Cal Poly biology junior, David Denisov, who plans to pursue a career in emergency medicine has received a 2018 California State University Trustees' Award for Outstanding Achievement.
Read more about biology student's award
Cal Poly Celebrates Neutrino Discovery
For the first time, scientists have located the source of a high-energy neutrino from another galaxy. Cal Poly professors Jodi Christiansen and Stephanie Wissel explain the significance of this discovery.
Read more about how this discovery gives scientists a new way to learn about the universe
Physics professor Colleen Marlow receives the prestigious Marsden Award from the Royal Society of New Zealand
Marlow's technique is based on measuring the complex electrical sensitivity of carbon nanotube networks. A carbon nanotube is a tube-shaped carbon crystal structure with a diameter about 10,000 times smaller than a human hair and unique electrical properties.
Read about how this work may represent an advancement in biosensors commonly used for routine medical diagnostics
Cal Poly Receives U.S. Department of Justice Campus Program Grant for Gender-Based Violence Prevention
Cal Poly is one of 53 universities nationwide to receive the Campus Program grant through the federal justice department's Office on Violence Against Women. 
Read about how theses funds will be used to enhance gender-based violence prevention and response efforts on campus
Physics Professor Wins Prestigious National Science Foundation CAREER Award
Physics Professor Stephanie Wissel received the National Science Foundation's most prestigious award for new faculty, the Faculty Early Career Development Program, or CAREER, Award. Only five other Cal Poly faculty members have ever received a CAREER Award, and only 450 are given each year.
Read more about how this award supports Wissel's research with a grant of nearly $670,000 over five years
Jupyter Collaboration Led by Cal Poly and UC Berkeley Receives Top Software Award
Project Jupyter may be the best kept secret on the Cal Poly campus, but it's well-known at companies such as Microsoft, Google and IBM. These tech giants have created entire commercial data science and AI platforms based on the open-source software project.
Read more about Project Jupyter
Biology Professor and Author Publishes Guide to Iconic California Plants 
 Biology professor and author Matt Ritter is on a mission to "get people stoked on plants."
Learn more about Ritter's new book, "California Plants: A Guide to Our Iconic Flora"
Biology Professor Helps Develop Model for Sustainable Ocean Use
A team of universities that includes Cal Poly has developed a new analytical model that could lead to more environmentally sustainable ocean usage and management. 
Read more about this sustainable model
Interdisciplinary Teams Bring Power of the Sun in a Suitcase  
An interdisciplinary team of Cal Poly students brought the power of the sun in a suitcase to a local elementary and high school. The school children learned about the impact of solar energy by building a small solar-powered system - and then figuring out how to improve it.
Read more about this interdisciplinary team
Cal Poly Kinesiology and Public Health Professor Wins CSU Award for Outstanding Scholarship
Cal Poly kinesiology and public health Professor Suzanne Phelan has received the $20,000 Wang Family Excellence Award for outstanding commitment to student achievement and scientific contributions. Phelan was one of five California State University faculty and staff members to receive the award. 
Read more about the professor who won a CSU Award
Cal Poly Research Finds Strong Support for Ocean Protection Worldwide
People around the world strongly support ocean conservation measures, according to a new study of public perceptions of marine threats and protection.The study, which was published in the journal Ocean and Coastal Management, provides a rare comparison of how the public views marine threats by human activity and protection efforts around the globe.
Read more about this support for Ocean Protection
Collaborative Cal Poly Study Finds Noise from Oil and Gas Operations Stresses Birds and Hinders Their Reproduction
Birds exposed to the persistent noise of natural gas compressors show symptoms remarkably similar to those in humans suffering from post-traumatic stress disorder, according to new research from Cal Poly and two partner schools.
Read more about this collaborative study
---
2017
Cal Poly Mathematics Professor Named Teaching Innovator by Chronicle of Higher Education
Mathematics Professor Stan Yoshinobu, who has championed a method of learning mathematics that reduces student anxiety and closes the gender gap in the discipline, has been named to the Chronicle of Higher Education's first-ever list of Teaching Innovators. 
Read more about Professor Stan Yoshinobu
Cal Poly Research Team Heading to Antarctica to Study Seal Pups
A team of Cal Poly students and professors is heading to Antarctica in October on a 10-week research expedition to study Weddell seal pups.
Read more about the expedition to Antarctica
Baker Center Wins Prestigious Building Award
Cal Poly's Warren J. Baker Center for Science and Mathematics received the 2017 Livable Buildings Award from UC Berkeley's Center for the Built Environment (CBE).
Read more about the Livable Buildings Award
Cal Poly Research Finds Resilient Algae May Help Abalone During Ocean Acidification
New research from Cal Poly and California Sea Grant sounds a hopeful note for the resilience of California abalone in the face of ocean acidification. The study focuses on crustose coralline algae and their effects on abalone's ability to reproduce. 
Read more about coralline algae resilience
Cal Poly Researchers Map Bird Deaths from Window Collisions
Nearly 1 billion birds die annually in North America after colliding with windows in buildings. Cal Poly students joined an international team of researchers to determine how different buildings and landscaping contribute to those deaths. The researchers found that large buildings with a lot of windows caused the most bird deaths, especially when surrounded by more grass and landscaping.
Read more about birds and buildings
Cal Poly Study Finds Mothers Distracted During Breast and Bottle Feeding
Mothers are distracted nearly half the time they're breast or bottle feeding their infants, according to a Cal Poly study published in the Journal of Nutrition Education and Behavior. More than one in four mothers reported distractions from electronic devices such as mobile phones, tablets and televisions.
Read more about the infant feeding study
Cal Poly-UNC Online Program Improves Weight Loss After Childbirth
An online weight loss program led to significant weight loss in low-income, at-risk mothers during the year following pregnancy, according to a Cal Poly-UNC study. The research program — Fit Moms/Mamas Activas — included a website with weekly lessons, instructional videos, a web diary, automated responses based on participants' progress, text messages and monthly face-to-face groups.
Read more about the weight loss program
Liberal Studies Major Beats Cancer to Graduate with Her Class
Two weeks before the start of her sophomore year, liberal studies major Camille Chabot was diagnosed with Stage IV Hodgkin's lymphoma. Through everything that followed, she remained determined to graduate in four years.
Read more about Chabot's journey
Do Cook Pines Pine for the Equator?
Perhaps the Cook pine never wanted to leave New Caledonia. In a recent article in the journal Ecology, botanists from California Polytechnic State University reveal a novel behavior of the Cook pine — it always leans toward the equator. This behavior has never been observed in a plant before.
Read more about the slanted pines
Cal Poly Bio Students Awarded NSF Research Fellowships
Two Cal Poly biological sciences students this year have been awarded National Science Foundation graduate research fellowships. Erin Aiello, a graduate student, and Heather Neldner, a senior, will each receive $34,000 for three years within a five-year period in addition to a cost-of-education allowance as part of the fellowships.
Read more about the scholarships
College of Science and Mathematics to Unveil Diversity-Themed Mural May 26
Cal Poly's College of Science and Mathematics will unveil a 27-foot long by 6-foot high, diversity-themed mural at noon on May 26 in the main lobby of the Warren J. Baker Center for Science and Mathematics. The artist will discuss the artwork directly preceding the unveiling at 11 a.m. in Room 101 of the Baker Center (No. 180).
Cal Poly Names Dean Wendt to Lead College of Science and Mathematics
Cal Poly Provost Kathleen Enz Finken today announced that Dean Wendt, a biology professor and currently the university's dean of research, will become dean of the College of Science and Mathematics effective July 1.
A Historic Gift
Alumnus William L. Frost and his wife have given a CSU-record $110 million to Cal Poly's College of Science & Mathematics to support undergraduate research.
Remote Control of a Giant Telescope? Yeah, That's Cool
Students learn by viewing a black hole using a telescope at the Lick Observatory outside of San Jose. The twist? They're settled comfortably 200 miles away on the Cal Poly campus, controlling instruments on the telescope remotely.
Read more about the observations
Students Build Detector for CERN Upgrade
Cal Poly students are building a particle detector that they will then install in the world's largest and most powerful particle accelerator.
Cal Poly Goes South, Way South
Professor Stephanie Wissel and her team of student researchers contributed to an Antarctic neutrino search in December.
Read about the preparation for the experiment
NSF Grant Will Aid Search for Blazars, Dark Matter
Professor Jodi Christiansen and a team of students will work on improving gamma ray detection at the Very Energetic Radiation Imaging Telescope Array System (VERITAS) in southern Arizona thanks to almost $160,000 from the National Science Foundation. The improvements will help scientists observe blazars and dark matter.
Read more about Christiansen's search
Faculty Updates
Student-faculty research projects spanned the globe and the world of physics. From fractal black holes on strings to insulated solar electric cooking, Cal Poly  contributed to what we know about the universe.
Hancock College VP Named 2016 COSAM Honored Alumna
This year's high honors from Cal Poly's Alumni Association will go to Nohemy Ornelas, associate superintendent and vice president of students services at Allan Hancock College.
Read more about the honored alumna
Cal Poly Students Support the Coldest Cubic Meter — Biggest Chill — in the Universe
By the end of the year, one small corner of the universe will get really cold, and four Cal Poly physics majors helped finish construction of the instrument that will cool it down.
Read more about the experiment
---
Related Content